On Thanksgiving weekend, 2003, The Hills of Milton headed for the Bancroft area to try their hands at being rock-hounds. We rented a cottage from the (very) good people at Silgrey resort, driving up Saturday afternoon. The evening was spent around a campfire, eating 'smores under a crystal clear sky, with Mars still brilliant in the south and a just-passed full moon rising in the east.
Our cottage was high above the river, but it did not stop Jonathan from going on a pedal boat before breakfast!
Our first rock-hounding stop was along the York river, near the Egan Chute, seen above.
Anna, in her brand new hiking boots enjoyed clambering over the rocks to get a great view of the chute. Even Shamus got into the act!
Next, we went to a place called the Princess Sodalite Mine, a gift shop on Hwy 28, who directed us to the McDonald Mine. Feldspar was mined here 80 years ago, but the mine was abandoned when they started getting more quartz and smoky quartz than feldspar. The mine goes right through the hillside, and the pictures below show the back of the mine, and a large outcropping of what looks like ice, but is a side of a hill made of quartz.
This is Alison inside the mine. The roof appears faceted, because the feldspar preferentially breaks along its crystals.
That is Anna, climbing out of the mine, the outside entrance of which is seen below.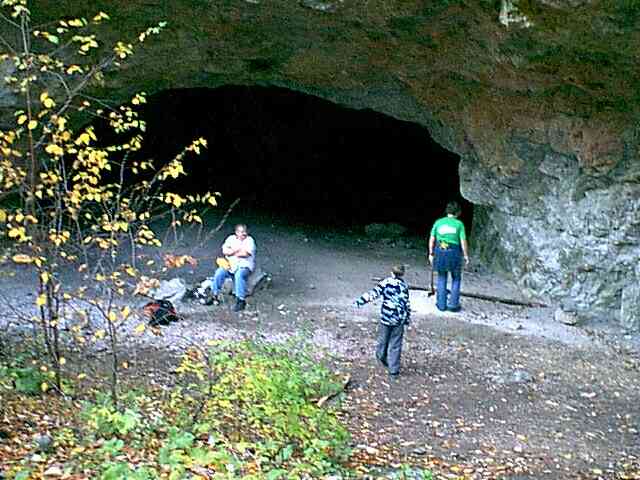 No, that is not ice, it is quartz. A solid block of the stuff two or three stories tall.
We also went to see the fall colours, which were magnificent. If you have never visited this part of Ontario, please do, it is beautiful.